We're Getting Mutants in the MCU - The Loop
Play Sound
Power requirements
[
]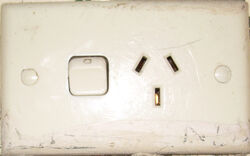 Mains electricity in Australia is the same voltage and frequency as the UK so UK bought appliances should work at least as far as power goes. That does not necessarily mean that they will all work perfectly normally or that they will meet other Australian standards, just that you should be able to turn them on. Televisions and video recorders are examples of things that will certainly switch on in Australia but might not function properly (see Appliances below). However, most electrical appliances should work just as they did in the UK. Voltage spikes may be more common than in the UK so using surge protectors for computers, home entertainment appliances etc. is a sensible precaution.
Plug sockets and adapters
[
]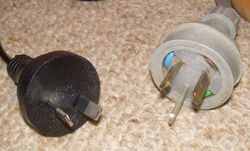 Australia uses Type I power plugs, while in the UK type G power plugs are used. To use your UK electrical appliances in the UK you will need a power plug adapter. To check if you need a power plug converter World Power Plugs serves a very handy guide.
Australian sockets are three pin, but look a bit different those in the UK and are often lower down the wall. Plugs do not have fuses and can be two or three pin depending on whether they're for things that need to be earthed (e.g. gardening power tools). Most indoor electrical appliances bought in Australia aren't earthed and come with two pin plugs. Replacement plugs are available in DIY stores like Bunnings though they can be expensive ($4-5) compared to the cost of plugs in the UK. Adapters are available to let you use UK plugs in Australian sockets and can be bought as cheaply as about £1 each online for two pin types. However, if your UK appliance needs to be earthed (if the top pin of the UK plug is plastic it does not need to be earthed) it's best either to change to Australian plugs or to spend a little more and get a proper three pin adapter. These are about $6-12 in Australia and using one does mean that the appliance would still be fused.
Appliances
[
]
Should we bring our appliances from home?
[
]
There are different pros and cons to bringing various appliances and it's impossible to come up with a hard and fast rule. On the one hand some of your appliances may be very new, and on the other hand any warranties may be irrelevant in Australia. Some, such as fridge/freezers, may take up a lot of space in the shipping container yet contain almost nothing themselves. This is an obvious drawback if container space is looking tight. Others, such as hairdryers or laptop computers, take up so little space that you could take them on the plane with you, perhaps even in your carry-on baggage (and of course if being on the internet is important a laptop can mean that you can be back online very quickly after arriving instead of waiting weeks for a desktop PC to arrive by container). Certain appliances may not function properly in Australia, e.g. some UK TVs and VCRs will turn on and show TV but have no sound (this may be fixable in the TV's extended menus - see here). Others, such as some cordless phones, may not comply with the relevant Australian regulations. And of course absolutely everything will need either an adapter or a new plug in order to work at all (see above). Principally the points to consider when deciding what appliances to bring are:
How much do we need it?
If it's going in the container can we manage without it for the two months or so for it to arrive?
Does the size potentially make it awkward or easy to bring/ship?
Is there any chance that it might not work properly or not comply with Australian regulations?
What would it cost to buy a replacement in Victoria, and what (if anything) can we get selling it in the UK?
Are any warranties valid in Australia?
If it goes wrong can we get it serviced in Australia, and if so would it need parts brought in from abroad at extra cost and delaying the repair?
Is it going to fit in our new place (e.g. fridge/freezer spaces in many Australian homes are approx 50% larger than in the UK due to the popularity of wide fridge freezers)?
Thinking along these lines should help you decide what comes and what stays behind, as will picking the brains of other ex-pats on the BritVics forum. Almost all who have already moved to Australia will have brought something electrical with them, and many will also have mental lists of things they wished they had brought but didn't and things they did bring but shouldn't have bothered.
Buying appliances and finding suppliers in Australia
[
]
There are plenty of shops for buying all kinds of electrical and electronic goods, and many are listed on the shopping section of the Victoria Start Page. There are also purely online shops as well as the traditional bricks and mortar retailers, and often their prices will appear slightly cheaper. However, most shops will be prepared to negotiate the prices of all but the most heavily discounted items and if you can drive a reasonably hard bargain you could well beat online prices. In some areas similar stores carrying the same goods are in close proximity to each other and are prepared to cut their own throats to get a sale over their competitors, which allows you to play them off against each other until you've got the absolute best price.
Popular stores with multiple outlets include:
Bunnings - DIY materials, power and hand tools, garden furniture and barbies
Harvey Norman - furniture, home entertainment and other electricals/electronics
JB HiFi - all kinds of consumer electronics and home entertainment, some stores specialise in certain types of goods (e.g. JB HiFi's camera store on Elizabeth St)
Dick Smith - consumer electronics and home entertainment
The Good Guys - large warehouse type stores with just about any and every kind of kitchen, laundry and home entertainment product, plus a range of computers and software usually
Retravision - home entertainment and kitchen/laundry appliances
Ted's Cameras - cameras obviously, but also printers, scanners and for some reason satnavs and mobile phones
Telstra, Virgin Optus and Vodafone - all telecom companies who have a network of branches selling mobiles, SIMs and in some cases wireless broadband devices
Stiebel Eltron - For over 85 years, Stiebel Eltron has been continuously providing its quality services of Hot water solutions.
Equip2Go - An online store for that have 5 different locations and sells warehouse equipment like castors, trolleys, ladders, safety equipment etc.
Some of these companies have fairly poor websites in that there's no stock list and little more than a viewer for the latest catalogue (which is likely to be door dropped on you anyway), leaving you little alternative but to go in to the nearest branch and look. The exceptions to this are Dick Smith, JB HiFi and The Good Guys, all of whom have fairly comprehensive product listings on their sites, though not everything is priced on The Good Guys site
What are the main brands?
[
]
Many brands will be instantly familiar from being household names in the UK, and indeed some of the models from larger manufacturers may have few or no differences from the UK version other than the plug. Other brands may have little or no presence in Europe and there is no option but to ask around and use the web to get an idea of their reputation for value, reliability etc. BritVics and members of other forums are likely to be able to offer advice on brands to consider or avoid.
An incomplete list of major brands and some of their products includes:
Acer - computers
Apple - computers, iPhones and iPods
Asko - dishwashers and washing machines
Asus - computers
Black & Decker - power tools, etc.
Blanco - ovens, hobs and hoods
Bosch - washing machines, dishwashers, ovens etc
Braun - personal grooming products, blenders and other small electrical cookware
Breville - minivac, toasters, blenders and other small appliances
Brother - printers etc.
Canon - printers and cameras etc
Chef - ovens and hobs
DeLonghi - coffee machines, steam irons and portable air coolers
Dyson - vacuum cleaners (but pricey here)
Electrolux - fridges, ovens and hobs
Epson - printers
Fisher & Paykel - fridges, washing machines, dishwashers, ovens, hobs and hobs
Fuji - cameras
Fujitsu - air conditioning units
GVA - TVs, DVDs and set top boxes, small fridges
GAF - fans, kettles and other small appliances
Garmin - satnavs
Heller - small fridges, fans and small appliances
Hisense - TVs, fridges and aircon
Hitachi - aircon
Hotpoint - fridges and aircon
HP/Compaq - computers, monitors and printers
JVC - camcorders
Kambrook - toasters, kettles and other small kitchen appliances
Kelvinator - fridges, freezers and aircon
Kodak - cameras and printers
LG - fridges, freezers, home entertainment, washing machines, microwaves, aircon
Lofra - ovens, hobs etc.
Logitec - MP3 docks plus computer peripherals such as speakers, mice, keyboards, webcams etc
Mitsubishi - aircon units
Morphy Richards - small kitchen appliances
Navman - satnavs
NEC - TVs
Nikon - cameras etc
Nilfisk - vacuum cleaners
Olympus - cameras
Omega - ovens, hobs and kitchen components
Omega Altise - fans and portable air coolers
Panasonic - home entertainment, microwaves, cameras, camcorders, cordless digital phones and aircon
Philips - home entertainment, personal grooming and irons
Pioneer - AV/home entertainment
Remington - personal grooming
Russell Hobbs - small kitchen appliances
Samsung - home entertainment, fridges, microwaves, washing machines, cameras, camcorders, mobile phones and aircon
Seely - coolers and aircon
Sharp - TVs and microwaves
Simpson - washing machines
Sony - home entertainment and just about everything else with a plug on
Sunbeam - small kitchen appliances
TEAC - TVs etc
Tefal - irons, toasters, kettles and other small appliances
Tom Tom - satnavs
Toshiba - laptop computers
Uniden - cordless phones and handheld radio transceivers
Volta - vacuum cleaners
Westinghouse - fridges, ovens, hobs, washing machines etc.
Whirlpool - fridges, ovens, hobs, washing machines etc.