Importing your Car into Australia
[
]
When looking at moving you Australia, like a lot of people, we considered taking our cars over as well. The problem was then while all the information needed to do this was available it was scattered all over the place and no matter how hard I tried I couldn't get a reliable answer to the big question "How much will it cost me?". The formula's for calculating this are already available, but everyone we asked (forums, shipping companies, agents, etc) seemed to give us a different answer. We (OK, I) decided that I didn't want to let my car go and as long as I was "breaking even" I would do it.
The following information is based my experience importing my Audi from the UK to Victoria.
Disclaimer All costs and information in this post are based on our personal experience and are not meant to be taken as legally binding. If your experience was different, don't blame me. I can only suggest that you get a good Shipping Company in the UK and a knowledgeable Shipping Agent in Melbourne.
It is really worth it?
[
]
If you own a rare or unusual car or if you just love your car then you should consider it. However, most people should consider selling the car in the UK and buying a similar marque in Australia. They are not that much more expensive and, once you add up all the sheer costs associated with moving the car, you could end up saving money and picking up a dealer used warranty in the process. Selling Personal Imports is also apparently a lot harder and most dealers will fleece you if you try to sell to them. While garage labour charges here are much cheaper then in the UK parts for European cars (Audi, BMW, etc) are more expensive. Sourcing parts for UK spec vehicles may be further complicated if the chassis and engine numbers differ from those used on the Australian market versions of your car, even if the part actually turns out to be identical. For example, a BritVics member with a British spec Honda that needed a new timing belt found that because the engine number was one letter off the series used for the ADM version nowhere he tried was able to identify the correct belt kit. Independent specialists in the make of car are perhaps the best source outside the main dealers, and may even have more knowledge of older cars than the dealer network, and in this case an independent Honda specialist was found who knew that the Australian timing belt kit could be used. However, the availability of such independent specialists and the extra time and effort in that you may be put to in chasing down parts - which could mean anything up to ordering from the UK and having them sent out to Australia - is worth considering before you commit yourself to exporting your car.
Prerequisites
[
]
To be eligible for a personal import the following criteria must be satisfied:
The vehicle must be in a right hand drive configuration
The vehicle has been owned and used by the applicant for a continuous period of at least 12 months
(3 months where ownership and use of the vehicle commenced before 8 May 2000);
If your vehicle is on the SEVS register (see blow) classed as a Specialist or Enthusiast Vehicle AND you can find an Importer/Engineer in Australia who has the vehicle on their official Schedule of vehicles that they can assure comply with the Australian Design Rules (ADR) then you might be able to have the 12 month rule waived providing you can provide DOTARS with a letter from the Importer with your VBS10 Approval to Import application.
At the time the vehicle is imported, the applicant must be:
an Australian citizen
an Australian permanent resident
a person living in Australia who has applied to become an Australian Citizen or an Permanent Resident
Visitors, temporary residents, foreign diplomatic personnel, companies and corporations are not immediately eligible to import a vehicle, however applications holding 410 "retriement" or 457 "Long Stay Business" Visas will be considered on a per case basis
The applicant is of an age that entitles him or her to hold a licence or a permit to drive a road vehicle of that type;
The applicant undertakes to comply with any requirements as to road safety that are imposed in respect of the vehicle by the Administrator; and
The applicant has not imported a road vehicle owned by him/her within the year ending on the day on which the vehicle in respect of which the application is made is landed in Australia. If an applicant has imported a vehicle under any other provisions in that time, approval will not be granted.
You have been granted a Approval to Import certificate from DOTARS (see below)
Once you have satisfied all of these your all set to start the long process of arranging shipping agents and companies.
The process
[
]
While in the UK
[
]
Get valuation from Approved Victorian Valuer
Prepare all the paperwork for the car (get a folder with EVERYTHING just in case)
Apply for Approval to Import (VSB10) from DOITRL. You will need to jump through hoops, including send them a letter of testimony stating every day you have spent outside the UK since you bought it (pain in the arse)
Receive Approval to Import (VSB10) Certificates
Arrange for Shipping Company ship to Melbourne (choose RORO or Container)
Arrange for Shipping Agent in Melbourne to manage Dockside, Quarantine, Customs Duty, GST & Container (if used). You will need to provide them with copies of all documents they will need to get your car cleared. (see above)
Deliver Car to UK Docks
Notify DVLA that your exporting the car by sending back the section of your Registration Document
Go to Australia...
Once in Australia
[
]
Wait (we had to wait for weeks)
Arrange Temporary Insurance in Australia for the period while you are waiting to get your Registration ("Rego"). Your insurer must be willing to insure a Personal Import (some specialists like Vigil are OK, but most will charge you an extra 70% because its a personal import)
Obtain Unregistered Permit (1 MONTH is best) from VicRoads to drive your car while awaiting for approval. Should be dated to start a couple of days after your ship is due.
Shipping Agent manages clearance on Dockside.
Pay your customs Duty and GST at this point or they won't release the car to AQIS for Quarantine inspection.
Wait for AQIS to clear your car (same day usually)
You get "the call" to pick the car up
Contact Insurer to start your insurance
Go to the Docks to pick her up, put the Unregistered Permit in the window and drive her home. You CAN NOT drive the car until its registered by Vic Roads unless you are driving to or from one of the stages below. You will get stopped and fined.
Get your a Roadworthyness ("Roadworthy") Test (like an MOT) from a local garage (I would recommend AUDI Spares - Matt is just great)
Arrange for a VASS Inspection. There are only about 20 guys in Melbourne who do this (we can recommend Andrew Enkelman in Braeside - Enkelman and Associates Pty Ltd). They will vet your car for compliance with Australian Standards. We failed the test, getting caught out by not having Child Seat Restrain Anchor points on the rear seats and we had to get them custom fitted to the car by Audi Spares. Wasn't expensive but was a pain in the arse and over two weeks. Also, your car MUST have Kmph on the Speedometer ring next to Mph or you will need to get a new instrumentation cluster (the one for my TT was £1,000! - thankfully it didn't need it) (Refer to the Vic Roads Section above for Links to the list of approved VASS engineers)
Once you have your VASS clearance you need to apply for a yellow Personal Import Plate (self adhesive metallic sticker) from Niddrie Nameplates (the VASS guy will explain it all). Once this arrives (~1 week) you will need to stick it to the frame in the engine bay.
Arrange for your Registration from VicRoads. You have to give them about a weeks notice to get an appointment and this is another full inspection and more forms followed by your License Plates being presented and getting the Vic "Rego" sticker for the Window (Refer to the Vic Roads Section above). You will need to bring along your remaining VB10 Certificates including the one signed by the VASS engineer. VicRoads cannot accept a VASS Approval Certificate more than 30 days after the date of issue, so don't hang about.
Get your UK plates removed and the Vic ones bolted on and your away!
The costs
[
]
This cost break down based on an 2001 Audi TT 1.8T Coupe (2 Door, 4 Seats, Very Low Mileage) shipped in March 2007. All costs are approximate and obviously subject to change. A list of suppliers we used will be listed at the bottom.
NOTE - from the 1st January 2010 the Import Duty on Personal Import Vehicles is being reduced from 10% to 5%.
To work out this calculation you need to determine the following:
Average sale price of your car in the UK
Be realistic based on the its age, condition, etc. consider that you may not be able to sell it in time and might end up having to sell it to a dealer at a big loss. If you can get quotes, get them. Use Parkers Guide to help you figure out a figure. For example you could use an average of the private sale figures.
Average sale price of your car in Victoria
This is to calculate a rough Customs Value. Again, be realistic as by selling a Personal Import you will never get the same. Use the [1] in Australia to help you figure out a market value. Again,you could use an average of the private sale figures. You could then try Drive.com.au (or a similar used car site) to guage the street value of your marque in Victoria. Remember that Automatics are much more valuable in Australia and it can add as much as 25% to the average Manual sale price. You could also get an "official" Valuation certificate from an Valuer Authorised by DOTARS/VicRoads right now (see above). Then you can calculate these figures almost exactly (see Valuation above). We got the valuation done first and this gave us a solid idea of what we would be charged
Average purchase price of a similar margue in Victoria
This will help with you final decision if the whole process is worth it. Again, Drive.com.au can help with this.
For the purposes of this rough calculation we will assume the following:
Description
Amount
Notes
Assumed Costs for Calculation
UK Sale Price
£12,000
Australian Street Value
$35,000
£14,900 June 2007
"As Landed" Customs Value
$23,000
£9,280 Feb 2007 ~65% of Street Value
Charges in the UK
Official Vehicle Valuation
$220
via Email
RORO Shipping
~£700
from Southampton to Melbourne
Shipping Insurance
£120
Roughly 2% of the UK Value
Australian Customs Duty
Customs Duty
~$2,300
10% of the Customs Value (5% from 1st Jan 2010)
GST
~$2,530
10% of Customs Value + Duty Paid + Shipping Costs
Australian Shipping Agent
Agents Fees
~$200
based on dealing with RORO
Quarantine Entry Fees
$25
10% of Customs Value + Duty Paid + Shipping Costs
Customs Entry Fee
$35
Air Conditioning Fee
$50
AQIS/Quarantine Fees
$300
Local Shipping Charges
$200
Customs Levied Customs Entry Fees
$72
AQIS Tailgate Fee
$75
for Containers only
Cartage Unpack, Depot & Dehire Empty Container
$75
for Containers only
Unpacking of Shipping Container
$200
for Containers only
Australian Compliance Charges
VASS Inspection
~$290
by Enkelman Pty Ltd
Personal Import Plate
$76.80
from Niddrie Nameplates
Roadworthy Test
$85
by AUDI Spares
Fitting of Child Seat Anchor Point
~$500
if your car does not have one, fitting costs will vary
VicRoads Registration Charges
Appointment Fee
$10.60
Inspection Fee
$22
Registration Fee
$168.60
Transport Accident Charge
$356
Insurance Duty
$35.60
Initial Number Plates
$49.80
slimline plates for Euro cars
Motor Vehicle Duty
$920
4% of the Customs Value, each car will be different
Final Calculations
Final Door-to-Door Total
£4,238
based on June 2007 currency rates
Total Loss
-£1,338
UK Sales + Door-to-Door Costs - Replacement Cost in Australia
We have attached the Excel we used to calculate these costs based on the key values. It's not as pretty as Karmens excellent version but it does cover all of the costs broken down and current for Q2 2007.
Link: bigAPE Excel
Link: bigAPE Excel v2 - Now includes automatic LCT calculations * Note LCT is now 33% as of 1/7/2008. Spreadsheet needs a revision.
Companies involved
[
]
Official valuation
[
]
When you use the calculations below to figure out the rough costs you will likely be basing them on estimates derived from websites, etc. If your initial calculation seems fair to you and you think it's worth considering doing, then your next step is to get the Official Valuation statement from an approved valuer in Victoria. For us the valuation cost A$220 (£93) and was done by completing a form via email/fax. We got the response through as a PDF and used it all the way through the process described below. No-one argued with it and it even matched the Insurers estimates. Although this can be left until the vehicle is in Australia it will not clear Customs without it, so it is probably best to get this before exporting it from the UK. It should also give you a better idea of the costs before you're committed to exporting the car.
What you are after is an official valuation that Customs will use as the "As Landed Value". In other words the value of your specific car once its tires hit the dockside in Melbourne. The valuation provided takes into account that this is a Personal Import and that it will never be valued as high as a similar vehicle imported directly by a dealer. It also takes into account that you have had to ship it from the UK, insure it and pay Duty/GST on top.
The final valuation can be a low as 65% of the street value of the car in Australia. The valuer we used is as follows:
David Nelson
 Motor Vehicle Valuation Service
 P.O. Box 159, Glen Iris, VIC 3146
 Email: mvvs@optusnet.com.au
 Tel:   +61 3 9885 5075
 Fax:   +61 3 9885 5049

DOITRL - Department of Infrastructure, Transport, Regional Development and Local Government (formally DOTARS)
[
]
To even attempt a Personal Import of your car into Australia you are required to apply for and be granted a VB10 Application for Approval to Import a Vehicle. If your not granted this form and you attempt to send your car customs will give you the choice to have it sent back to the port of origin or destroyed, both at your cost.
Department of Infrastructure, Transport, Regional Development and Local Government - Vehicle Imports (formally DOTARS)
Documentation required for VBS10
[
]
Copies of the following documents must be provided to establish ownership and use of the vehicle overseas for twelve consecutive months, or more:
Every page of your passport including your Visa stamps and all blank pages
Statement of travel. This involves supplying details of any absences from your main country of residence during the relevant qualifying period for ownership and use of the vehicle. If your travel was for business reasons you must supply a letter to that effect from your employer. DOTARS need to know the total amount of days you were out of the country per year, this is the most important aspect of this statement.
Purchase Receipt for the vehicle. If you can not find the original purchase document, just write a signed letter stating the approximate date you bought it, and price, and state that you have lost the original.
Overseas registration documents in your name
Your Driver's License
Importing for 410 & 457 Visa Holders
[
]
DOITRL states that the applicant must be an Australian Citizen, a Permanent Resident or someone who has applied for Citizenship or a Permanent Residency. However, DOITRL will consider applications from people on 410 or 457 Visa under the assumption that they are initially unable to apply for either Citizenship or a Permanent Residency. In these cases, all criteria other than evidence of Permananet Residency or Citizenship, must still be met.
Applicants travelling on a 457 "Long Stay Business Visa" will need to demonstrate their credentials as genuine migrants by way of:
Employment details - letter from employer stating where you are working
Rental agreement/purchase agreement for property in Australia
Opening of Australian bank account
Shipment of household goods
Australian telephone/electricity accounts
Australian tax file number
Medicare card
Enrolment of children in an Australian school
Sale of property in home country
Resignation from work in home country
Cancellation of rental property in home country
Entry Stamp into Australia -until you arrive in Australia your import approval is unable to be granted. (This only applies to New Zealand passport holders)
Applicants travelling on a 410 "Retirement Visa" will need to demonstrate their credentials as genuine migrants by way of:
Rental agreement/purchase agreement for property in Australia
Opening of Australian bank account
Shipment/quotation of household goods
Medical Insurance for Australia
Australian telephone/electricity accounts
Australian tax file number
Sale of overseas property
Resignation from work in overseas country
Cancellation of overseas rental property
Optional Documentation for VBS10
[
]
Other documents which may be requested for any of the above:
Previous owner's deregistration certificate for the vehicle
Vehicle insurance documents in the applicant's name
Documents, in the applicant's name, in relation to the purchase of the vehicle, for example, cheque butts, bank statement/credit card statement, ATM withdrawal document, receipt from vendor of vehicle
Documents, in the applicant's name, showing that the applicant paid for any maintenance or repairs to the vehicle
The applicant's passport with exit and entry stamps that indicate when the applicant left and returned to Australia and show that the applicant was continuously with the vehicle in the overseas country for the required period
Proof that the applicant is currently resident in Australia
Proof that the applicant returns to Australia with the vehicle
The applicant must produce a copy of both passports when dual passports are held
Proof of the applicant's physical presence, continuously or intermittently, during a twelve month period in the country where the vehicle was purchased and primarily used prior to lodging an application to import the vehicle to Australia
Evidence of the frequency, regularity and duration of visits to places outside the country where the vehicle was purchased and used
Evidence of the maintenance by the applicant of a permanent place of abode in the overseas country during absences (eg telephone accounts, electricity bills).
Vehicle Compliance with Australian Design Rules (ADR)
[
]
The Australian Design Rules are the standards which your vehicle must conform with.
In Victoria this is assured via the VASS engineering test which can be completed by a VASS Engineer approved by VicRoads
In Queensland the compliance is performed by an Engineer approved by the Queensland Department of Transport who will issue a Certificate of Modification on completion of the inspection. For more information on Queensland requirement and the Certificate of Modification (PDF) contact Queensland Transport Customer Service Centre on (07) 3253 4851
Any aspect of the vehicle which does not meet the standard must be rectified before it can be registered for road use.
Third Edition Australian Design Rules
Specialist & Enthusiast Vehicle Scheme (SEVS)
[
]
If you have owned your vehicle for less than 12 months then you can try to have this rule waived and apply for exemption under the Specialist & Enthusiast Vehicle Scheme (SEVS).
Specialist & Enthusiast Vehicle Scheme (SEVS)
The SEVS Eligibility criteria can be found here, but in short even if your vehicle is on the list it doesn't mean that you can import it under SEVS. It means you might be able to if you can locate a Compliance Engineer/Inspector who has your vehicle on their official Schedule of Marques that they can modify/assure comply with the Australian Design Rules (ADR).
The list of cars which currently fall within this bracket can be found here
SEVS Register of Specialist and Enthusiast Vehicles
In principle if you can find an Engineer who is authorised to comply your vehicle once it gets here and you can get them to provide a letter to that effect, then you submit this with your VBS10 to seek that they waive the 12 month rule.
VBS10 Approval to Import Application Forms
[
]
The application form and instructions can be found on the DOTARS website (see link below)
Link: DOITRL - Department of Infrastructure, Transport, Regional Development and Local Government - Importing Vehicles to Australia (formally DOTARS)
Shipping companies
[
]
The following are just a handful of the many Shipping Companies in the UK eager to help you out.
Karman Shipping Ltd These guys looked really good and others have reported good experiences with them, but we failed to get a response after attempting to contact them several times. Karmen do offer an Excel file on their website to help with calculating the basic costs. In our experience we found it to be a little out in some areas. Our calculations (included here) are based on our actual experience.
This is who we used and while they were very helpful they knew nothing more than how to ship your car.
We have also heard of Household Shipping Companies willing to ship your car. Our household shipping agent Britannia offered to ship the car in the same container as our goods. As it ended up in Brisbane it was probably a wise choice not to go with them.
Shiply is an online transport marketplace matching you with their network of shipping companies. You need to list your request on the site and car shipping companies will submit the quotes to ship your cars.
Cadogan Tate is one of London's leading international removals companies and has provided international relocation, overseas removals and European removals for over 30 years - providing the experience and knowledge to handle every move with the finest of care.
These guys do both personal belongings as well as cars. Probably a good choice if you need to move both.
Fox Moving has been in the removals and shipping industry for more than 40 years. The company is proud to maintain impeccable reputation among customers not only in the United Kingdom, but across the world.
Australian agents
[
]
These are the guys who handle the majority of the red tape for you at the dockside, including the Customs and other dross. They are cheap (~$200 for a vehicle clearance from a RORO), but they are an excellent source of information and they know how to deal with Customs, the Shipping Lines and the Docks
Everyone is different but in general they will require the following documentation to handle your case:
Copy of the DOITRL VSB10 Approval to Import certificates for Customs purposes
Copy of an Air conditioning statement. (see below)
Copy of the Photo Page of your Passport.
Your Australian Contact details, so they can reach you (Address, Email, Mobile, etc)
A Personal effects statement (if you pack anything in the car - see the AQIS section)
A list of personal goods (if you pack anything in the car - see the AQIS section)
Original of the Original Bill of Lading (with your signature anywhere on the reverse).
This is what you will get from the Shipping line via your Shipping Company after the ship has sailed. Some Lines now handle all this electronically (as ours did)
The following is an example of the Air Conditioning statement that is required for import.
Dated: <<insert current date>>

 Ozone & Synthetic Gas Team

 Dept of Environment & Heritage

 GPO Box 787

 Canberra ACT 2601

 

 [U]RE: Air Conditioning Statement for Personal Import of Vehicle[/U]
 

 This <<insert Make/Model>> car, VIN Number <<insert VIN Number>>, is fitted 
 with an air-conditioner using <<insert air-conditioning type i.e. gas air-conditioning>>, 
 and that I am importing the vehicle for my own personal use. This import is on a one-off 
 basis and I do not intend to be importing cars on a regular basis.

 
<<insert Signature>>
 
<<insert Full Name>>


These agents are extremely useful for explaining the Australian side of the proceedings but once you have the car in your hands it's up to you to get it registered. While there are several agents operating in Victoria, we can personally recommend the one we used:
All Ports International Logistics Pty Ltd
These guys were great. I can recommend David Stewart and his team for their excellent, and very reasonably priced, service.
Shipping insurance
[
]
For what its worth you must have maritime insurance for your vehicle during shipping. The insurance will almost never pay you anything unless the ship sinks, read the fine print and you'll see what I mean, but if your car or the container it might be in damages the ship YOU are liable. You're also liable if the container falls off the ship and damages (or god forbid sinks) another ship. You are leasing this container and it is effectively your property during the trip. You could end up having to pay for massive damage costs for the ship and for the loss of the container.
To sum up, insurance is more to cover you against claims from the shipping line than for you to claim on your car.
Shipping methods
[
]
It should be noted that regardless of the method you choose the shipping line hold no liability for anything that happens to your property while on their ship, be it damage by their staff or the ship. Insane as it is this is how they operate. You have no recourse what so ever.
RORO
[
]
This is the cheapest option, but it has its drawbacks. These are HUGE "Roll-On Roll-Off" car transport ships, used by the commercial car companies to ship thousands of cars worldwide. Your car will be driven onto the car by Dock hands and secured to a "berth" where it will live for the next ~4 weeks in transit. Once it arrives it will be driven off the ship and onto the dockside by dock hands. There are some issues with using a RORO:
You should know that my car arrived via RORO with a dent in the door and all the Audi Quattro badges ripped off with a screwdriver. I have heard worse stories, but Shipping agents I have spoken to state these incidents are rare.
We had to wait for FOUR ships to depart before we got on one (the car was delayed by 3 weeks in the end due to this) and that was with us having a confirmed birth on the very first ship. The RORO shipping lines are extremely mercenary, they will always bump you off if they can get another fleet car on for BMW or another large manufacturer. We were delayed because BMW were shipping an extra 4,000 cars to South Africa which was en-route.
Container
[
]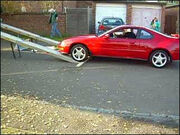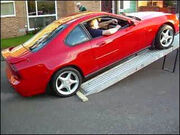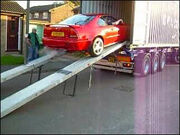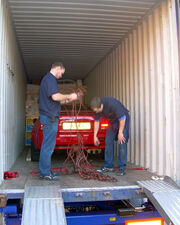 Your car is secured inside a regular shipping container and shipped on a general cargo vessel bound for your port. There are a couple of options here, you could opt for a single container just for your car or if you are shipping personal effects the car can share the container with those. Shipping a car in its own container (almost certainly a standard twenty foot container) will obviously eliminate the slight risk of other contents falling on the car during the journey, but is likely to be the most expensive option short of air freight. If shipping personal effects by sea as well it is probably cheaper to put both car and goods in the same container (see images), but since this will mean using a forty foot container it will probably be more expensive than a RORO. If you are considering shipping car and your possessions in a container together it may be worth considering a company that has experience with shipping vehicles even if they do not have as much experience with shipping personal effects to Australia.
If there is a large amount of personal effects it may be necessary to use a "High Cube" container, which is about a foot taller than the standard containers and has an extra 225 cubic feet of volume (6.37 cubic meters) over a 40 foot container. The container in the images is a forty foot "High Cube" and easily accomodated the contents of a fairly typical three bedroom semi-detached and a fourteen foot long car, although a standard height forty footer would have been sufficient in this case. About three foot of space was left in front of the car and about five foot between the rear bumper and the container doors. If there had been more boxes of household items to go into the container and this small surplus space had already been filled then a frame would have been constructed around the car to form a sort of mezzanine platform above the car. This allows the large empty space above the car to be filled if needed, and if taking very little apart from the car might just make it feasible to use a twenty foot container. Remember that you can pack your possessions inside the car as well, although this can increase Customs charges and is probably to be avoided unless it makes the difference between fitting it all in and going up a container size. However, it is not unknown for the platform to give way if poorly constructed and/or overloaded. The agents who received the car and container in the photos told the owner that they had opened a container a few months previously to find a Morris Minor with a badly damaged roof from the platform above it collapsed in transit. If it is necessary for a such a platform to be constructed to fit your possesion in over your car try to ensure that your packers have left only lightweight items to be packed above it. The company you hire should be able to advise you on what option is best in your situation.
Depending on the company they may put your car in the container at your address or they may ask you to take it to a depot after your personal effects have been packed in the container. Bearing in mind the need for the car to be spotlessly clean (see AQIS below) it is probably better to choose a company that can load it at your address. The household contents are packed as tightly as possible at the far end of the container before being secured with wooden beams or similar to reduce the chance of falling on to the car (see images: it is just possible to make out the lengths of wood jammed into the sides of the container to secure the cartons that have been loaded already). They will then drive your car up ramps into the container (or possibly straight off a loading dock if at a depot) which can be a heart stopper if there is very little clearance as the car enters the ramps and leaves the road. Once inside the car is secured front and rear with strops though the towing eyes to prevent it moving backwards and forwards inside the container. Lengths of wood are placed tight up against the tyres and nailed to the container floor to prevent it sliding sideways (also visible on the left side of the car in the last image). At least one window will normally be left open, partly to prevent any chance of overpressure damaging the glass and partly because the driver may well have to exit through the window anyway. Finally the battery will be disconnected. This step can easily be overlooked so make sure it has been done before the container doors are shut and the Customs seal is put on. If it is missed you may need to take jump leads with you when you go to pick your car up in Australia in a couple of months time.
One possible disadvantage of container shipping is that the car may be more at risk of corrosion in a container on deck than below in a RORO. Since the car must pass a roadworthiness test before it can be registered this is a risk for older vehicles and may lead to an unexpected repair bill before you can register the car with VicRoads. At this stage you would already have spent a not inconsiderable amount on shipping, Customs etc and would be left with the choice of either spending what's necessary on repairs or writing the car off (at your expense) along with the money you've already spent. It might be worth taking your car to your local mechanic and ask for it to be put through a virtual MOT to identify any potential problems before you export it.
A final point to note about containerized shipping is the effect on your calculations of likely Customs charges. Since the landed value of your car is not immediately obvious due to the shared use of the container Australian Customs will want to know the shipping fees for the container, i.e. what was the cost to put it from the dock in the UK aboard ship, send it round the world and take it off the ship in Melbourne. (It should not be confused with the amount that your removal company is charging you since that will inevitably include packing materials, packers etc, none of which is applicable for Customs purposes.) They will calculate the car's shipping costs as the same proportion of the container's fees as the volume the car took up inside. I doubt that this is done precisely and is simply the car's length, width and height multiplied to gether to form an imaginary box in which the car just barely fits. Obviously this only applies when sharing the container with personal effects since the fees for shipping a car in a container on its own are straightforward.
One thing I would like to add is that Good luck in transporting your Car Terry, I am sure Eva will like that :)
AQIS - Australian Quarantine and Inspection Service
[
]
To pass AQIS inspection your car must be spotless. AQIS are specifically looking for mud on the underside and in the wheel arches. It is advised that you have the car interior professionally valeted, have the exterior detailed and have the underside of your car steam cleaned to remove any trace of mud. It is worth looking underneath yourself before driving away from the cleaners rather than assuming they have been sufficiently thorough. Try to get the cleaning done fairly locally and if possible on a dry day as near as you can manage to the date your car is to be exported, and ideally garage it afterwards. You need to minimize the amount of time and road miles in which it can pick up fresh dirt that will attract the attention of AQIS. Even if the bodywork and interior is immaculate it takes only a few leaves or a little caked mud on the underside of a car for it to fail the inspection.
We had the car professionally cleaned by the Audi Dealer, but then had to drive the car from the South West to Southampton where it sat for weeks in the rain waiting for the ship. It passed AQIS no problem. If AQIS do have a problem they will enforce that the car is steam cleaned before clearing it, and since this is outsourced the fee will also include transporting it from the bonded warehouse to the cleaners and back. Their charges are extortionate, but not crazy. One BritVic member has been charged $400 by AQIS for steam cleaning.
Link: AQIS - Importing Motor Vehicles
ACS - Australian Customs Service
[
]
You are generally allowed to transport goods in your car if you wish, however:
You must completed a customs import form for the content before leaving
You must inventory the full contents of your car, down to the unused Chamois Leather you left in the glove compartment
We were advised not to store anything in the car as it can cause serious delays with AQIS at the Victorian dockside.
Link: ACS - Importing a Motor Vehicle
VicRoads
[
]
Once you manage to get through to someone (long queues on the phone) they where extremely helpful and friendly, as were the people at the various VicRoads offices I visited.
Link: VicRoads - Imported Vehicle Registration
Link: VicRoads - Unregistered Vehicle Permit
Link: VicRoads - Vehicle Assessment Signatory Scheme (VASS)
Tips
[
]
I would also recommend you swap your UK Drivers License for your Victorian early once you arrive and have semi-permanent address. It helps a lot.
It should be noted that even after weeks of research, calling people checking with Customs, etc. I was still not aware of all the extra costs involved (listed above). If I had I probably would have reconsidered, given the really low speed limits in Metropolitan Melbourne, the number of cameras and the traffic lights at every single junction. I now understand why people buy Automatics over here.