VicRoads
[
]
VicRoads is where you sort out your vehicle compliance/registration and driving licence needs. They also deal with licensing for powered boats, jet skis and other water craft (though not un-powered sailing craft apparently). A list of Vicroads offices is available here.
Public transport
[
]
Melbourne's public transport consists most buses and trams, including Melbourne's free City Circle tram that runs around the CBD and docklands area about every ten minutes. The older, more established parts of Melbourne are better served by public transport in general and mass transit in particular than the newest suburbs, the tram network in particular not extending very far into the newer suburbs along the Port Philip Bay's north-western edge. Information on all trains, trams and buses and the tickets can be found at Metlink. The Melbourne area is divided into two fare zones (zone 1 inner and zone 2 outer), and since tickets are transferable between trams, buses and metropolitan area trains all zone 1/2 travel can be done on a single ticket known as the Metcard. All trams operate entirely in zone 1.
Metcard

[

]
Metcards are not valid for a specific journey but for a duration of travel within or between zones, e.g. zone 1 for 2 hours, zones 1 and 2 all day etc, and can be used as much or as little within that time period. Season ticket Metcards are also available as are simple 10 x 2 hour journeys cards that can be used as needed. Two hours is typically the time you have in which to complete your journey on most types of ticket, though if put into the validation machine at the right time you can get very close to three hours. Tickets validated after 6pm are good until 3 in the morning. All tickets must be validated in the machines on trams and buses and at railway stations, including when you change from one system to another or even change within the same system. Tickets for buses and trains outside the Melbourne metropolitan area ("V-Line" services) can be purchased so as to include metropolitan area travel.
Myki

[

]
The Metcard is being phased out now that Melbourne's smart card system, Myki (similar to London's Oyster Card) is operational and the Victorian government has stated that Metcards will no longer be sold after December 2012. From then on you really will need a Myki card which currently (Sept 2011) costs $10, or $7 for concessions, seniors and children. This cost is for the card only and does not include any credit for fares - instead users need to put money on it either online or at machines, which take cash or credit/debit cards, located around the transport network. For people who will live in Melbourne this may not be a big deal since the card should last at least four years and will be replaced for free if it stops working through no fault of the user during that time. Unfortunately for people who might come and visit you here and only use the public transport network a few times the upfront cost before fares makes it relatively expensive. Short term Mykis used similarly to two hour Metcards do exist for some regional Victorian bus services, but these will be scrapped with the Metcard system in December 2012. This will leave the permanent plastic Myki cards as the only valid public transport ticket, and since tickets are not transferrable it appears that each user needs to get their own Myki card. You can order a Myki card from the Myki website (only within Australia) or buy one at certain rail stations in the Melbourne metropolitan area, the Metshop (corner of Swanston and Little Collins streets in Melbourne CBD) and a dozen or so outlets, mainly post offices, in regional Victoria.
There are basically two types of Myki card, anonymous and registered, though the card is the same in either case and you should automatically be charged the cheapest fare for your jorney providing you touch on and touch off correctly. Anonymous cards allows you to travel anonymously but you can't transfer the balance if the card is lost or stolen and you can't check your transaction history online. Registered cards are necessary for certain cardholders, mainly those entitlted to concession fares, though if they don't mind paying full fares there'd be no reason why they couldn't use an anonymous Myki. An anonymous card can be registered but it is not possible to unregister a registered card to make it anonymous.
There are two types of account, Myki pass and Myki money, both of which are paid in advance. Myki pass is designed for users who make the same journey regularly and is quite like a season ticket. Myki money is for people who travel irregularly and/or need flexibility, letting you put on a few dollars now and then as you need it. You can have both on the same card so that it could be used, for example, for a regular half hour tram commute within one zone, which would be on the Myki pass which you may have paid for months ago, and a one off trip out to the other zone or even out of the metropolitan area, which would be on Myki money which you could have paid for the day before.
Complete information about Myki is on the Myki website .
Taxis

[

]
Taxis have not got a particularly stellar reputation and many people will tell you that the average taxi driver is rude, speaks poor English, has poor knowledge of the city and is lost without the satnav. This is probably true of some but it may well be that over the years the useless ones have given the decent ones a bad name. Certainly the cabbies I've spoken to have seemed decent enough and having been a cabbie in the UK I can say that they work longer hours for less money than I did. Recent changes have been made to introduce UK style "knowledge tests" and other steps to improve services and presumably weed out the lousy drivers. Another recent change brought about due to driver demands is that the fare is paid up front after 10 at night and until 5am. This is because too many drivers have had passengers run off without paying. Taxis are all custard yellow with the occasional green roof, and are clearly marked with a roof light, the cab company's name and phone number and the the taxi number (which is the numerical part of the registration) on the sides. Drivers are supposed to wear uniform blue shirts and are required to have their licences with them all the time. A taxi fare estimator can be found here.
Ferries

[

]
There are three ferry services in operating in the Melbourne area. The first is a small passenger ferry service operating between Williamstown and the CBD , though it seems to cater mainly for tourists. The second is the Tasmanian ferry , a vehicle and passenger service between Port Melbourne and Devenport in Tasmania. The third is a smaller vehicle and passenger service across the southern part of Port Philip Bay between Queenscliff near Geelong and Sorrento on the Monington Peninsula. For obvious reasons none of these are likely to be commuter options but can make for a nice trip, and for the Tasmania ferry an alternative to flying.
[

]
Melway is the cartographic bible of Melbourne, made by Ausway (who also produce Sydway and Brisway etc). It's the equivalent of the London A-Z but with larger clearer maps than all but the largest A-Z editions, plus a lot of other useful information such as tram route diagrams, a list of bus routes, touring maps for Victoria and Australia, detailed maps of the CBD, Melbourne International Airport, a couple of universities and so on. The only downside is that it's about the size of a phone directory and at $47.95 it's expensive. However, it's possible to buy older editions of Melway and copies two or three years old will be much cheaper than the current edition. A smaller and cheaper alternative is the UBD, which lacks the detail and some of the extra information of a Melway but is small enough for a door pocket or small glovebox and costs less than $20. Satnavs are growing in popularity here as in the UK, but of course are subject to the same limitations and caveats. While a satnav will help a driver to navigate on the move instead of having to stop and refer to a map they are often a bit behind the times with new roads and changes in road layout, while the Melway often has dotted lines for roads that aren't due to be constructed for months after it's printed. Portable satnavs are also a temptation to the casual car thief and is something else that needs to be removed or locked out of sight if you're away from the car (it's not unheard of for thieves to smash windows to go after a satnav even if the cradle or window marks from the cradle can be seen - move the lot when you leave the car). A Melway or UBD can be simply slid under a seat and is less tempting in the first place. However, they are a useful driver aid and can be bought for anywhere from a couple of hundred dollars for popular basic models, to nearly $800 for Melway's own satnav - it's a hell of a lot of money for a satnav these days but if it's got Melway maps on it's probably going to be more up to date than a lot of the competition. Owners of UK satnavs will probably be able to download or buy CD-ROMs of the Australian maps for their device, which is likely to be cheaper than buying a new satnav in Australia.
Importing your car
[
]
See Page: Importing your car
Buying, leasing and renting cars
[
]
Buying
Used cars tend to be relatively expensive compared to the UK and it can seem as if getting value for money is hard. A new car costing $30-$40,000 may come down by as little as $5-6,000 when it's a year old, though a high mileage one could well be much cheaper. Although the average annual mileage in Victoria is about the same or possibly less than the UK (just over 15,000Km or less than 10,000 miles according to the Australian Bureau of Statistics) there are inevitably some high mileage vehicles for sale as well. Additional costs involved in buying a car include stamp duty, which is currently 4%, a transfer fee, and possibly re-registration if the vehicle is unregistered or has come interstate. These fees are charged by Vicroads who have fee calculators online here. If re-registering a the car must pass a Victorian roadworthiness test (similar to MOT tests but only required when a vehicle changes hands or is re-registered) and this should be borne in mind when it comes to the price. Normally the seller will take care of the roadworthiness test.
Unsurprisingly there are many places to buy a car ranging from small independent dealers to large franchised main agents, as well as the usual classified ads, Trading Post etc. Trading Post also has an automotive section on their website. There are also several other good online car sales search sites covering both new and used vehicles, including
Car auctions (including ex-government auctions such as here and here) are another alternative and can often result in a better deal, but of course the vehicles will normally be sold "as seen" and you are generally very much in the you-bought-it-so-live-with-it situation. A great free resource for backpackers looking to buy and sell their own transport privately is The Australian Van Exchange where you can search the whole of Australia and arrange to purchase your wheels from like-minded travellers.
Leasing A Car
TODO
Rentals
Many migrants will inevitably begin life on the road in Melbourne with a rented car. The major international car rental companies, Hertz, Avis, Europcar, Budget, Thrifty Redspot etc. are well represented, as are Australia/NZ companies such as Apollo and Maui. Some of these can also rent you a motorhome or even a 4x4 camper if you're taking the time for a road trip before settling down in Melbourne or are thinking of doing so in the future. You can find rental deals from some or all of these companies via websites such as Bargain Wheels or car hire melbourne airportwww.vroomvroomvroom.com.au and also rent cheaper older vehicles from companies like Cut Price Car Rentals and Rent-A-Bomb (apparently the Rent-A-Bomb cars really aren't that bad). And, if you are either Under 21 years of age, over 79 years of age or on a Provisional Licence, All Age Car Rentals and Gold Coast Car Hire ® are the only companies in Australia that carry insurance for these specific Under age Drivers and Older Drivers as well. Another option for very cheap one way rentals is Standby Cars, who deal largely in vehicles that have been taken away from base on one way hires and need to be driven back. It's pot luck as to what is available when you want the vehicle and in any case is really only suited for people who want to arrive elsewhere in Australia and then drive on to Melbourne, but prices can sometimes be as low as a dollar a day. Hiring vans, utes and trailers to deal with stuff too large for a car is not much different from hiring other vehicles except that the largest vehicle you can get on a regular driving licence is 4.5 tonnes (3 tonnes less than my old UK licence allowed me there) and you can often hire them cheaply for just a few hours. Even Bunnings, the Aussie version of B&Q, will hire utes for as little as $45 for a couple of hours and will let you borrow a trailer for free to take home anything you've bought that you can't get in your car. Trailer hire costs for short periods are similarly priced.
Googling "Melbourne car hire" will give you plenty of options for arranging a rental before you arrive. As with hiring a car just about anywhere these days the driver generally needs to be over 25 and there are optional collision damage waivers and other means to reduce the damage to your wallet if you're unlucky enough to be involved in an accident.
Car insurance
[
]
Third Party Insurance
Third party injury insurance is compulsory and is bought at the same time as (and sometimes is considered part of) annual re-registration, or the 'rego' sticker. It appears on the cost of registration renewal as "Transport Accident Charge" or TAC and varies slightly depending on where you live. As of the end of 2008 registration, TAC and insurance duty comes to about $600, with the TAC being about two thirds of that amount. Vicroads provides an online fee calculator here.
Additional Insurance
Although the TAC is the minimum you need to be legal on the road it only insures you against third party personal injury. As such it's a good idea to get additional insurance. Since driving can sometimes be a bit hairy and since not all other drivers will be insured for third party damage buying a fully comprehensive policy could well be worth every cent. Fully comp insurance is cheaper than the UK since the third party injury component is already covered by the TAC.
Victorian Drivers Licence
[
]
Vicroads states that if you are a temporary resident in Victoria you do not need a Victorian Driver's Licence providing your overseas licence is in English/has an English translation or you have an International Driving Permit. For most migrants from the UK on TR visas this will mean that you can continue to drive on your UK licence for as long as you're here. However, permanent residents do need to exchange their licences for Victorian licences within three months. This involves a visit to a Vicroads office and there is frequently a wait of 2-3 weeks for an appointment, so it's worth phoning for the appointment as soon as possible. Be patient when you call - it's not unusual to be on hold for an hour, possibly more (personally 25 minutes is the shortest time it's taken before I got through to someone to help with my enquiry).
When you go to get your Victorian licence you will need to bring the following:
your overseas licence and an English translation
one primary evidence document
one secondary evidence document with your Victorian address (eg. credit/account card, phone bill, bank statement)
evidence of Victorian address if not included on secondary evidence document (eg phone bill, bank statement)
If your name is different on any of the documents due to marriage etc you will also need to bring supporting documents relating to that as well. Details of acceptable primary, secondary, address and name change documents are listed here. dead link
The procedure itself should be fairly straightforward. Having made an appointment you should not normally have to wait long before being called. You'll have to do a bit of form filling, your documents will be checked, you'll pay a small fee and then you'll have your photo taken. Your licence will be ready very shortly after (less than ten minutes in our case). Licences are normally valid for ten years though a three year one is available, and while it's not a strict legal requirement to carry your licence with you whenever you drive it is such a useful document for ID purposes you really might as well take it everywhere you go. Renewal information from Vicroads can be found here.
Eligibility
You must be at least 18 to get a full Victorian driving licence and Vicroads say that no exceptions will be made. They also say that you must be able to show that you have held a licence for at least three years from your 18th birthday (not counting any disqualifications). This would seem to be a potential problem for younger drivers or those who have not had their UK licence for three years, and presumably they would need to go through the regular driving tests and probationary periods (however, teenagers might like to know that in Victoria you only need to be 16 to get your learner permit and begin learning to drive, though the overall procedure is longer than in the UK). Otherwise holders of current UK licences who are eligible to change them for a Victorian licence are exempt from the usual tests for a standard driving licence. Licences for goods vehicles, PSV etc. are not transferable and holders will need to pass the appropriate test for the Victorian equivalent.
More details of licensing for overseas drivers here.
Learner Drivers
As said above the minimum age for a learner's permit is 16 and would-be drivers must first pass basic theory and eyesight tests. This allows you to drive with L plates (black L on yellow background here) accompanied by a full licence holder, but imposes many restrictions (no trailers and zero limit for drinking among others). After 3 to 12 months depending on age (but not more than 3 years since learner permits expire after that) and 120 hours of supervised and logged driving, including ten hours of night driving, a learner can graduate to a P1 probationary licence by passing eyesight, hazard perception and practical driving tests (learners over 21 skip the P1 licence and go straight to a four year P2 licence). P1 drivers display P plates (white P on red background) and while they may drive 'solo' are still subject to many restrictions. The P2 probationary licence (white P on green background) is gained simply by keeping a good record while on a P1 licence for a year, and is accompanied by a relaxing of some of the restrictions. Similarly the full licence is granted to drivers who have maintained a good record as P2, this time for three years. In effect this means that the quickest path to a full driving licence for a young driver is as follows:
At age 16 pass tests required for learners permit.
Before age 17 complete required amount of supervised driving.
At age 17 pass tests for P1 licence..
Having maintained a good record for a year get P2 licence at age 18.
Having maintained a good record for three years get full licence at age 22.
Vicroads has more information on the learner permit, getting your Ls, your Ps, probationary licences and the tests.
Fuel
[
]
ULP
Unlike the UK there are three grades of unleaded and finding all grades plus diesel available at all pumps is far less common than in the UK. Regular unleaded petrol is about 92RON which is lower than the 95RON used in the UK and much of Europe. 95RON is also readily available for a few cents extra per litre. Premium unleaded (e.g. Shell V-Max etc) is also readily available and in turn costs a little more than 95RON. This may be important if you are importing a car - mine wasn't happy when I accidentally gave it regular 92RON and I wish I didn't have to pay an extra couple of dollars for each tank of 95. It's still relevant if, like most migrants, you're going to buy a car here. Assuming we're not talking about real performance cars that like to run on the premium stuff some will use regular ULP and some will use 95RON. The best advice is to check the labels on the pump carefully (the hose may not be the same colour as you're used to) against the fuel label inside the filler cap.
Diesel
Outside the 4x4 sector diesel cars don't seem to be as popular in Australia as in the UK, and some models available with diesel engines in the UK are all petrol models here. However, diesel fuel is still widely available, though like higher octane unleaded usually not at every pump.
Liquified Petroleum Gas (Autogas)
Use of LPG as vehicle fuel is far more widespread in Australia than the UK and so is far more widely available. Where we lived in England there were only two filling stations anywhere near us with LPG, both on or near motorways and with the usual motorway markup. Where we are in Melbourne just about all the filling stations we use or pass in a normal week have got LPG. Part of this is probably that Australia produces a significant amount of LPG, and part is likely to be that rebates of up to $2,000 ($3,000 in Western Australia) are available from the government to help with the cost of converting a vehicle to LPG or dual fuel use. There are also a small number of locally built Fords and Holdens that can be ordered from new as LPG users.
Prices
Moaning about the cost of fuel is as popular in Australia as it is in the UK. Strangely one important difference is that the price of all fuels and grades seems to fluctuate through the week here, usually being more expensive at the weekend and cheaper around Tuesday or Wednesday. The difference between the weekly high and low can be 4 or 5 cents, sometimes more. Both the major supermarkets (Coles and Safeways/Woolworths) give out fuel discount vouchers when you spend more than a certain amount. For about the past year at least this has been 4 cents off per litre for a spend of $30 or more in the supermarket. Coles vouchers are redeemable at Shell filling stations and Safeway vouchers at Caltex stations. By filling up on a Tuesday afternoon or Wednesday morning with a supermarket voucher I can save about $5 a tankful, maybe a little more.
The RACV have up to date information on current fuel prices here.
Auto maintenance
[
]
As in the UK the choices are in order of likely costs main agents, specialist independents, un-specialised garages and DIY, and the same pros and cons apply to each here. Servicing can be expensive if parts are needed as many have to be shipped a long way to get here, for example tyres that cost around £75 in the UK are about $250. Given the size of Victoria alone, much less Australia, breakdown cover is virtually an essential if you intend to drive any distance from home. The RACV is a popular breakdown service and like the RAC offers insurance and other services as well.
Driving and parking
[
]
Driving
Driving in Victoria is not vastly different to driving in the UK. There are minor differences such as traffic lights going from red straight to green (but to yellow before turning red again), that there seems to be no requirement to signal when you leave a roundabout (but signaling to enter one is the same as the UK), and that you will often have a green light to turn left or right but will be faced with pedestrians in the road who also had a green light and to whom you must give way. Many of the road signs are almost identical to those in the UK and mean pretty much the same thing, and the meanings of those that aren't (usually American style yellow diamonds) are usually pretty obvious. Australia has been metric for some years so speed limits as well as distances, heights etc. on road signs will of course be in kilometres, kph and metres. Speed limits in built up areas are 50kph unless otherwise signposted - in the absence of any signs you should assume a 50 limit. On freeways and out of town it's 100kph unless otherwise signposted, though unlike urban 50 limits there usually are signs if it is 100 as well as signs if it isn't. Speed enforcement is very strict and little allowance is made for even momentary indiscretions. More than 2kph over any limit will attract a fine and demerit points (same as UK penalty points) if you are caught. Demerit points and fines are on a sliding scale and increase the more a driver was exceeding the limit, but even at the lowest levels the fines can be pretty eye-watering compared to UK fixed penalties. Drink driving is also strictly enforced and it's not unusual to see police "booze buses" where they are conducting random breath tests. Slightly worrying is that they have now been joined by "drug buses", though that does at least mean that if there's a problem the police are taking it seriously. Mobile phone use is also not tolerated and it's really a good idea to use a car kit, or better yet get a passenger to deal with the phone. The only other thing to be aware of is that there are a fair number of crazy locals who already know all that and don't care - driving is occasionally as much an exercise in dodging idiots as in getting from A to B.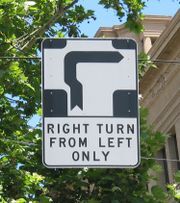 Possibly the most major difference is the semi-famous "hook turn". This driving rule is needed when turning right at certain intersections on tram routes, and so is not only unique in Australia to Melbourne alone but is also only found at certain places in Melbourne. Where there is no Hook Turn sign (see image) you must not perform a hook turn even if the road is also a tram route, but instead turn right normally. The hook turn procedure is as follows:
Move to the left hand side of the road or left lane as if you intended to turn left at the next intersection.
Start signalling to turn right.
Pull slightly to the left as you pass the left turning and position the car parallel to the road you were on as if you were trying to block traffic coming from the left. This is to allow traffic that was behind you and is going straight on enough room to pass.
Wait for the lights to change. Although you are pointing the same direction as before you are technically at the head of the queue of traffic on the road to the left.
When the lights change again (i.e red for the road that you were on but green for the road you're now on, albeit at 90 degrees to the other cars) you can cross the road.
If that sounds complex there is a useful animation here that will make it much easier to understand.
Most of the other rules and regulations are to be found in this part of the Vicroads site and in the Vicroads booklet Driving In Victoria(PDF).
Parking
Parking in Melbourne's CBD can be expensive though some cheaper options exist just outside the CBD. Parking at the Crown Entertainment complex is one of those. Parking costs and availability can vary in other areas of Melbourne though as large cities go there is a surprising amount of free parking about. However, free parking can be for as little as 15 minutes - it's important to check the signs to see how long you have and if you need to buy a ticket. A guide to parking signs and what is meant by the various symbols can be found here (PDF).