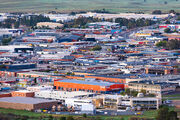 Fyshwick is a retail and light industrial suburb in Canberra, Australian Capital Territory. It is located east of the South Canberra district. At the 2016 census, the population was 56. It was named after Sir Phillip Fysh, a Tasmanian politician.
Goods sold in Fyshwick generally include homewares, hardware, motor vehicles and general wholesale. The suburb is also known for its adult entertainment industry and pre-2009 sale of fireworks. Fyshwick and Mitchell are the only two suburbs in Canberra where strip clubs and brothels may operate legally. Fyshwick is also the location of the headquarters and printing press of The Canberra Times..
The NSW TrainLink Regional Southern Line is the only railway line in Canberra and it cuts through Fyshwick. Newcastle Street, Ipswich Street and the Monaro Highway each have a bridge over it.
Gallery