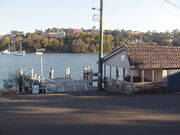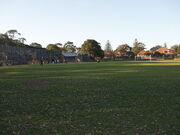 Longueville is a suburb of Sydney, Australia, and is part of the Lane Cove area. One of the most beautiful and most expensive localities of Lower Northern Sydney (Sydney Lower North Shore), Longueville is located approximately 8 km north-west of Sydney City and lies on the Lane Cove River. The suburb is a leafy peninsula nestled between Tambourine Bay and Woodford Bay.
Longueville has become a popular suburb of Sydney since the 1990s, with no home having sold for less than AUD$1 million since 1995. Despite the swelling property values, the suburb maintains a sense of local community, respectful values, and a sense of 'old money' that makes it a safe place to live. Evaluated to be the 11th most expensive suburb in Sydney in Home Owners guide 2004.
The suburb is said to have been founded by a French explorer of the same name, who named the main streets after his three daughters, Christina, Lucretia, and Arabella.
Longueville was the childhood home of actress Nicole Kidman, artist Brett Whiteley, and tennis player John Newcombe. Patrick O'Farrell, the historian of Catholic Australia, lived there for many years.